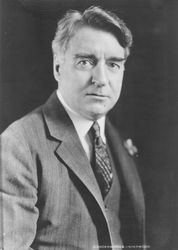 Royal Samuel Copeland (1868-1938) was a homeopathic doctor who underwent party and ideological shifts in his life. He was at the start of the 20th century Mayor of Ann Arbor, Michigan, and a Republican. However, after moving to New York City in 1908 to serve as dean of the New York Homeopathic Medical College and Flower Hospital, Copeland saw where the power was with Tammany Hall and aligned himself with the organization as a Democrat. Thanks to his connections, he was appointed head of the New York City Board of Health in 1918, and there he would face a great test.
Copeland faced, as we have recently, a pandemic as the head of the New York City Board of Health. Like many do at the start of such events he downplayed early reports, but as influenza spread he made some decisions surrounding the pandemic that were interesting to say the least. Copeland kept schools and theaters open during the pandemic. He justified the former as better than the living conditions many students had at home at the time and the latter given that public transportation was still open. Despite schools being open, many parents kept their children out of school anyway. These decisions were thought of as questionable at the time, but New York City ultimately fared better than many other major cities in deaths per capita, including Boston and Philadelphia. Copeland also benefited from a public health department that had already been functioning effectively.
His handling at the end of the pandemic was viewed positively and this raised his profile. In 1922, New York was a much different state than it is now: it was represented by James W. Wadsworth Jr. and William M. Calder. Both men were conservative Republicans, and the state had a history of electing such people to the Senate. One of its senators, Chauncey Depew, was an ultra-conservative who was one of the subjects of muckraker David Graham Phillips' expose, The Treason of the Senate, during the first Roosevelt Administration. Fortunately for Copeland, Calder was not an exceptional senator and in 1922, the midterms went as midterms usually go for the president's party. He lost reelection to Copeland by over 11 points, whose campaign had as its honorary chair none other than Franklin D. Roosevelt. Although his first two years were characterized by progressive voting, he soon shifted to being a moderate and this was a negative portend of how he would address the New Deal. Also, as a physician, Copeland pushed for air conditioning in the Senate and attributed the lack of it as a contributing cause of the deaths of thirty-four senators over a twelve-year period. By 1929, air conditioning was installed in the Senate.
1928 was a difficult year for New York Democrats, as although they won both the gubernatorial and senatorial elections, the margins were narrow and Hoover won the state. Copeland outperformed FDR on the ticket by defeating his challenger, Republican industrialist Alanson B. Houghton, by about a point. However, Hoover had only won the state by two points in part due to Al Smith headlining the ticket. This was also a massive improvement for Democrats over their 1924 performance, in which Coolidge trounced John W. Davis by double-digits.
Although Copeland's colleague, Robert F. Wagner, was one of the foremost New Dealers, Copeland was supportive but not enthusiastic on the First 100 Days legislation. Despite his close ties to Tammany Hall, he sponsored legislation to criminalize the practice of kickbacks for federal contracts, a practice that occurred in an estimated 25% of all money in federal contracts (Hill). He was a staunch supporter of civil rights legislation, which put him at odds with the Southern wing of his party which until the 1930s was decisively dominant. Senator Tom Heflin of Alabama, reacting to Copeland's hostile response to his condemnation of New York's law permitting interracial relationships, stated that if Copeland visited Alabama on a presidential campaign the people would lynch him. In 1937, he attempted twice to add anti-lynching legislation to New Deal measures, but they were voted down since if adopted, such measures would have had a united Southern front of opposition.
After the 1934 midterms, which Copeland handily won against future Congressman E. Harold Cluett, he turned increasingly hostile to the New Deal. In his final term, his MC-Index score averaged a 76%. In 1937, he ran in the Democratic and Republican primaries for New York City mayor as a conservative and lost both. For the Democrats, he was closely tied to Tammany Hall and for the Republicans, they were still on board with progressive Mayor Fiorello La Guardia. That year, Copeland led the charge against the nomination of Senator Hugo Black to the Supreme Court for his prior membership in the KKK, although his status as a staunch New Dealer was certainly another motivator. He also participated in the drafting of the Conservative Manifesto, a conservative alternative to the New Deal, which I discussed in my post of June 5, 2018, which I will link below. On April 6, 1938, he got into a dispute with the famously hot-tempered Senator Kenneth McKellar (D-Tenn.). The debate was about appropriating funds for anti-aircraft guns on the East Coast. Copeland favored and McKellar opposed, and after the latter asserted that a certain army witness "tells the truth", the former responded, "It may be that some others tell the truth, too" (Hill, 2015). McKellar interpreted this as him implying that he was a liar after he wouldn't further clarify what he meant, and after a few more words between them, he challenged him to a fight and had to be restrained by Senator Bennett Champ Clark of Missouri. Only two months later, Copeland died of a heart attack in his apartment, apparently a consequence of overwork. Only a week before, he had won passage of the Food, Drug, and Cosmetic Act of 1938. The nature of Copeland's passing was tragically ironic given his emphasis on the health of fellow senators, including warning them against overwork after the death of Majority Leader Joseph Robinson (D-Ark.) the previous year, which had been attributed to stress and overwork. His lifetime score was a 47%.
Copeland was succeeded by Congressman James M. Mead, who was a liberal like Wagner. To this day, he is the last non-liberal Democrat to represent New York in the Senate but was a figure who helped bringing the state more to the Democratic fold and away from conservatism. Indeed, after Copeland's defeat of Calder and Wagner's defeat of Wadsworth in 1926, the only people who can be said in any sense to be conservative who were elected to the Senate from New York since were James L. Buckley (who was ultra) and Al D'Amato (who was moderate).
P.S.: Shout out and thanks to user LT for the suggestion of this topic!
References
Again, Heflin. (1930, February 17). TIME Magazine.
Fist Fight Averted on Senate Floor; McKellar, in Sharp Exchange on Army Bill, Challenges Copeland to Combat. (1938, April 6). The New York Times.
Retrieved from
Gillis, A.M. (2014). The Devastation of 1918. Humanities, 35(2).
Retrieved from
https://www.neh.gov/humanities/2014/marchapril/feature/the-devastation-1918
Hill, R. (2018, February 11). Doctor In the Senate: Royal S. Copeland of New York. The Knoxville Focus.
Retrieved from
Markel, H. (2020, July 13). Analysis: Why some schools stayed open during the 1918 flu pandemic. PBS.
Retrieved from
https://www.pbs.org/newshour/health/analysis-why-some-schools-stayed-open-during-the-1918-flu-pandemic
To Table an Amendment to S. 2475, Offered by Senator Copeland Which Would Have Added the Anti-Lynching Bill as Perfected by the Senate Committee on the Judiciary to the Pending Legislation. Govtrack.
Retrieved from
https://www.govtrack.us/congress/votes/75-1/s58
To Table an Amendment to S. 69, The Interstate Commerce Act. The Amend. Offered by Senator Copeland Which Would Have Added House Bill 1507, The Anti-Lynching Bill, to S. 69, a Bill Limiting the Size of Trains in Interstate Commerce. Govtrack.
Retrieved from
https://www.govtrack.us/congress/votes/75-1/s43
Waldrop, T. (2020, August 19). Here's what happened when students went to school during the 1918 pandemic. CNN.
Retrieved from
https://www.cnn.com/2020/08/19/us/schools-flu-pandemic-1918-trnd/index.html
My posting on the "Conservative Manifesto":