In 1912, New York State Senator Franklin Delano Roosevelt made a fateful decision when he backed Woodrow Wilson for the Democratic nomination early and Wilson took notice of this energetic young man opposed, like him, to bossism and corruption. In March 1913, he was nominated Assistant Secretary of the Navy by President Wilson and unanimously confirmed by the Senate. Roosevelt was directly in charge of human relations, naval operations, and contracts while Secretary of the Navy Josephus Daniels dealt with big picture and political issues. He was 31 years old and an energetic administrator, just the type of man Wilson thought made for an ideal public servant. On the outbreak of the First World War, Roosevelt knew the significance and that the US would eventually become involved. Like Theodore Roosevelt, he stressed preparedness and building up the navy, a position that was not too popular in the Wilson Administration nor among many Democrats, including Secretary of State William Jennings Bryan. While he performed well in his role during World War I, it was what he did after the war that proved scandalous.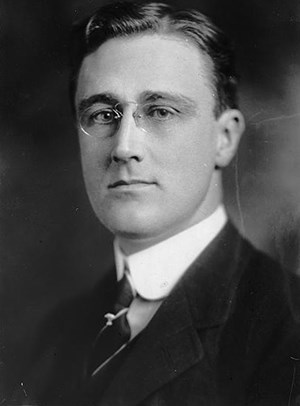 In February 1919, two patients at Naval Station Newport, Rhode Island, got to chatting. One of them, Thomas Brunelle, confided to the other, Petty Officer Ervin Arnold, that at the Army and Navy YMCA and the Newport Art Club in the city were hotspots for homosexual sex and companionship among naval personnel and civilians and that he had participated in it. He revealed names of people involved, which included an Episcopal chaplain. Arnold investigated the matter for himself and it confirmed what Brunelle had told him and he found heavy use of alcohol and cocaine at these parties in which the men cross-dressed. He reported this to the Naval authorities and Roosevelt gave an official investigation his approval. Arnold managed to convince the Naval authorities in Newport to put him in direct charge of the operation given his nine years of experience as a detective in Connecticut. He assembled a group of sailors under 30 years old who were willing to go undercover with the approval of naval higher-ups. The situation got rather out of hand, as author John Loughery (1998) describes, "The specific duties the recruits were charged with fell into three areas: to gather information about "cocaine joints" and the sale of liquor; to gather information "pertaining to cocksuckers and rectum receivers" and any network of "said fairies"; and to gather information about prostitutes in the area. In reality, once their project hit its stride, Arnold's band of investigators showed no interest to speak of in the "fallen women" of Newport and only minimal concern with the illegal drug traffic. What went on behind closed doors at the YMCA or in the romantic shadows of Cliff Walk was another matter. In their pursuit of the "cocksuckers" Arnold had charged them to find–and in the fairly staggering amount of oral sex they enjoyed in the line of duty–this group of young men was all but tireless. In fact, their assiduous performance was to become by the end of the summer a profound humiliation to the Department of the Navy and its leadership".
After two months of sending sailors to have sex with other men and collecting evidence, Arnold started arresting the people named by his enthusiastic investigators and the sailors among them were incarcerated for three months in solitary confinement. On May 1, 1919, Lieutenant Commander Murphy Foster announced that fifteen sailors were going to be court-martialed, but Arnold wanted to cleanse Newport of homosexuality altogether. He expanded his scope and arrests to civilians, with the approval and funding of Roosevelt. The matter became explosive when Reverend Samuel Neal Kent was arrested and charged. The two trials that would occur had testimony from the investigators that proved damning…for the Navy. The public and the jurors were outraged by the methods used in the investigation and the notion that the Navy would be a place where young men would be used in such a manner was scandalous. Bear in mind that the actions these men engaged in were regarded as unprintable in this time. Kent was acquitted both times given the disgust over the methods used here. FDR staunchly denied criticisms of him and the operation, and this resistance to admit any wrongdoing was at least partly due to conservative journalist John R. Rathom getting on his case about it through his newspaper, The Providence Journal. Secretary of the Navy Josephus Daniels started an investigation into the matter, but the report was a whitewash. In 1921, the Senate officially investigated and found that sailors had been denied legal counsel, beaten for confessions, and coached in said confessions. The investigating committee officially condemned Secretary of the Navy Josephus Daniels and Assistant Secretary Franklin D. Roosevelt, finding the latter's conduct in the matter "reprehensible". That same year, Kent was quietly disqualified from performing religious services. By 1928, the scandal had faded from public memory and Roosevelt was elected Governor of New York. As Roosevelt wrote to Daniels, "In the long run neither you nor I have been hurt by this mud-slinging… what is the use of fooling any longer with a bunch who have made up their minds that they do not care for the truth and are willing to say anything which they think will help them politically" (Brenkert).
References
Brenkert, B. Franklin D. Roosevelt's Forgotten Anti-Gay Sex Crusade. The Daily Beast.
Retrieved from
https://www.thedailybeast.com/franklin-d-roosevelts-forgotten-anti-gay-sex-crusade
Franklin Delano Roosevelt – Assistant Secretary of the Navy. National Park Service.
Retrieved from
https://www.nps.gov/articles/franklin-delano-roosevelt-assistant-secretary-of-the-navy.htm
Loughery, J. (1998). The Other Side of Silence. New York Times.
Retrieved from
https://archive.nytimes.com/www.nytimes.com/books/first/l/loughery-silence.html?mcubz=0