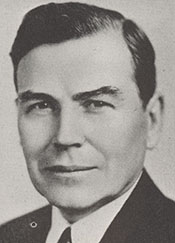 Although images of Mickey Mouse, fairy-tale princesses, and Walt Disney himself are conjured in the mind when the word "Disney" is heard, Oklahoma has its own Disney, Wesley Ernest Disney (1883-1961) of Tulsa. The 1930 election was a great one for the Democrats, as they won 52 seats in the House as well as control of the chamber in response to the start of the Great Depression, and one of these gains was in Oklahoma's 1st district (Tulsa), a swing seat that had switched between Republicans and Democrats since the 1914 election. Disney defeated the incumbent Republican, Charles O'Connor, by less than half a percentage point, but unlike his predecessors, he would stick around.
Disney had made a splash previously as an Oklahoma legislator. Representing Tulsa, he had a background as a "tough on crime" prosecutor and thus prosecuted Governor Jack C. Walton on impeachment charges which were initiated partly in response to his illegal suspension of the writ of habeas corpus in Tulsa County in 1923; any state official suspending habeas corpus was explicitly prohibited by the Oklahoma Constitution. Walton had been engaging in numerous measures to beat back the Ku Klux Klan for reasons that were at least as much if not more political than moral, including martial law for Tulsa and Okmulgee counties. Indeed, the Klan's influence and membership had been growing in Oklahoma partly in response to rising crime and tensions that had been growing from a major increase and urbanization in population as well as widespread suspicion by whites of blacks and other non-whites that they were radicals. The worst product of this tension was the Tulsa Race Riot of 1921, in which a group of whites targeted the black population, which included arson, murder, and even aerial bombings. The death toll is disputed, with 39 officially confirmed dead (26 black, 13 white), but it is possible that 75 to 300 people were killed. The business section of the Greenwood district of Tulsa (which was the black district) was destroyed as well. This was the context of the rise of the Oklahoma KKK, which since its founding in 1920 developed a particularly nasty reputation for violence, including numerous nighttime floggings for people who didn't meet the Klan's standards of moral conduct as well as some murders. Disney's efforts against Walton, who had imposed martial law on the entire state after impeachment charges were initiated against him, were successful. He was convicted on eleven of twenty-two impeachment charges, including graft, incompetence, and abuses of parole and pardon powers. The Oklahoma Senate had voted unanimously on some of them, and he was removed from office on November 19th. Disney subsequently urged the passage of a strong anti-mask law against the Klan to refute plausible accusations that the legislature was Klan-dominated, but the result was a watered-down law from what he had proposed. By 1928, however, the Klan had become irrelevant in Oklahoma's politics.
Disney began his career in Congress as a progressive, being a staunch foe of President Herbert Hoover and proving a strong supporter of President Roosevelt's New Deal policies. He, as did other Oklahoma Democrats save for Senator Thomas Gore, regarded the New Deal as good for the state's farmers. However, as numerous rural Democrats did, he began having second thoughts about Roosevelt during his second term and after the 1938 midterms became a foe of the New Deal. Disney was something of a representative of how Oklahoma was changing as a state: at the time of its foundation in 1907, it was a strongly progressive state that had one of the strongest state Socialist parties, which was able to win nearly one in five votes with regularity. However, by 1920 the Socialist Party lay in ruins due to its opposition to American participation in World War I. Although it made a minor comeback during the Great Depression, this was quite temporary and would be overshadowed by a long-term rise in right-wing politics. Disney's progressivism had turned into conservatism and he was a rather extreme example of how some Democrats shifted from favoring the New Deal to becoming opposed to it: in the 73rd Congress (1933-35) he scored an 7% on the MC-Index while in the 78th Congress, Disney was voting like a conservative Republican, scoring an 90% on the MC-Index. His lifetime score was a 43%. Disney's turn was also observed in other legislators and among the state's electorate. Even Roosevelt's friend and supporter in the Senate, Elmer Thomas, scored a 48% on the MC-Index in the 78th Congress, and in the 1942 Senate election, New Deal loyalist Josh Lee had lost reelection by ten points to ultra-conservative Republican oilman Edward H. Moore. Disney also voted against civil rights legislation in his time in office, opposing two anti-lynching bills and the 1942 bill banning the poll tax.
He was a staunch foe of price control during World War II, voting against the 1942 price control bill as well as voting to limit controls once implemented. In 1943, he battled the Roosevelt Administration on the October 3rd presidential order on wage freezes and managed to successfully alter it. The policy changed to freezing them at their highest rate from January 1st to September 15th, 1942 rather than prohibiting wage increases save certain exceptional circumstances.
In 1944, Disney tried to oust Senate incumbent Elmer Thomas in the Democratic primary, running as an anti-Roosevelt "state's rights Democrat", calling for the return of many functions assumed by the federal government to the states. Roosevelt campaigned for Thomas's renomination, and Thomas prevailed. Disney never ran for office again, being succeeded by ultra-conservative Republican George B. Schwabe. For the remainder of his life, he pursued a successful lobbying career and continued practicing law.
Note: Updated on 10/4/21 to account for the new MC-Index scores.
References
Hanneman, C.G. Disney, Wesley Ernest. Oklahoma Historical Society.
Retrieved from
https://www.okhistory.org/publications/enc/entry.php?entry=DI009
Langeveld, D. (2016, January 3). Jack C. Walton: general incompetence versus Invisible Empire. The Downfall Dictionary.
Retrieved from
http://downfalldictionary.blogspot.com/2016/01/jack-c-walton-general-incompetence.html
O'Dell, L. Ku Klux Klan. Oklahoma Historical Society.
https://www.okhistory.org/publications/enc/entry.php?entry=KU001