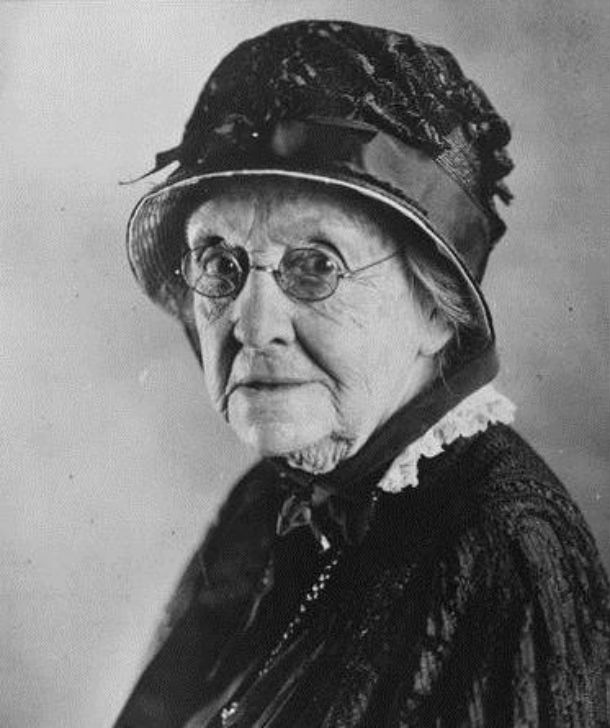 On September 26, 1922, Senator Thomas E. Watson of Georgia, a fiery populist and racial demagogue, died suddenly. Governor Thomas Hardwick was eager to return to the Senate, but there was a problem: he had voted against women's suffrage as a senator and his state had been one of two to create rules that prevented women from voting in the 1920 election. He realized he needed to give a nod to the newly enfranchised white women of his state. On October 3rd, Hardwick appointed Rebecca Latimer Felton (1835-1930) to fill the vacancy. Felton was an 87-year old suffragist who had actively supported the career of her late husband, Congressman William H. Felton, and she was the most prominent female voice in Georgia politics.
During William Felton's time in the state legislature and Congress from 1875 to 1881, she was his right hand…constituents bragged they were getting two Congressmen for the price of one as she would even draft legislation. In 1894, William Felton ran for Congress again as a Populist but lost. Rebecca Felton was outspoken in numerous reform causes of her day, including the end of the practice of convict leasing, which leased prisoners to private companies that in practice was indentured servitude with substandard conditions that at times were even worse than slavery. The practice was abolished in the state in 1908. Felton also succeeded in her advocacy for statewide prohibition as it was enacted in the same year and was a staunch advocate for public schooling.
While Rebecca Felton called for reform in a number of social areas for Georgia, she was also a staunch racist. Having been a slave owner before the Civil War, she believed in a strict order of social and legal control of the black population to be enforced with lynchings if necessary. Felton defended the barbaric 1899 lynching of Sam Hose, a black man who was tortured and mutilated before being burned at the stake. He had been accused of murdering his employer and raping his wife (the former was the product of an employment dispute and the latter was false), and Felton, shrugging the brutality of it off, thought the lynching justified given the nature of the accusations. She also would harbor no questioning of the Jim Crow system and ultimately was able through a public outrage campaign to force the resignation of Professor Andrew Sledd of Emory University for doing so.
Felton's appointment was a first, but it was symbolic as she only served for a day when the Senate wasn't in session and she regarded it as a joke. It was also, strangely enough, a last. She was the last member of either House to have owned slaves. The first female senator to be elected would be Hattie Caraway of Arkansas, who would vote and contribute to legislation. Hardwick's symbolic move ultimately didn't work as he was defeated by Walter George, the interim senator who succeeded Felton. He also lost reelection as Georgia's governor due to his opposition to the KKK.
References
Arnold, E.T. (2009). What virtue there is in fire: cultural memory and the lynching of Sam Hose. Athens, GA: The University of Georgia Press.
Parker, D.P. (2003, May 14). Rebecca Latimer Felton (1835-1930). New Georgia Encyclopedia.
Retrieved from
https://www.georgiaencyclopedia.org/articles/history-archaeology/rebecca-latimer-felton-1835-1930
Rebecca Latimer Felton: Activist, Author, Journalist, Politician. Georgia Women of Achievement.
Retrieved from
https://www.georgiawomen.org/rebecca-latimer-felton