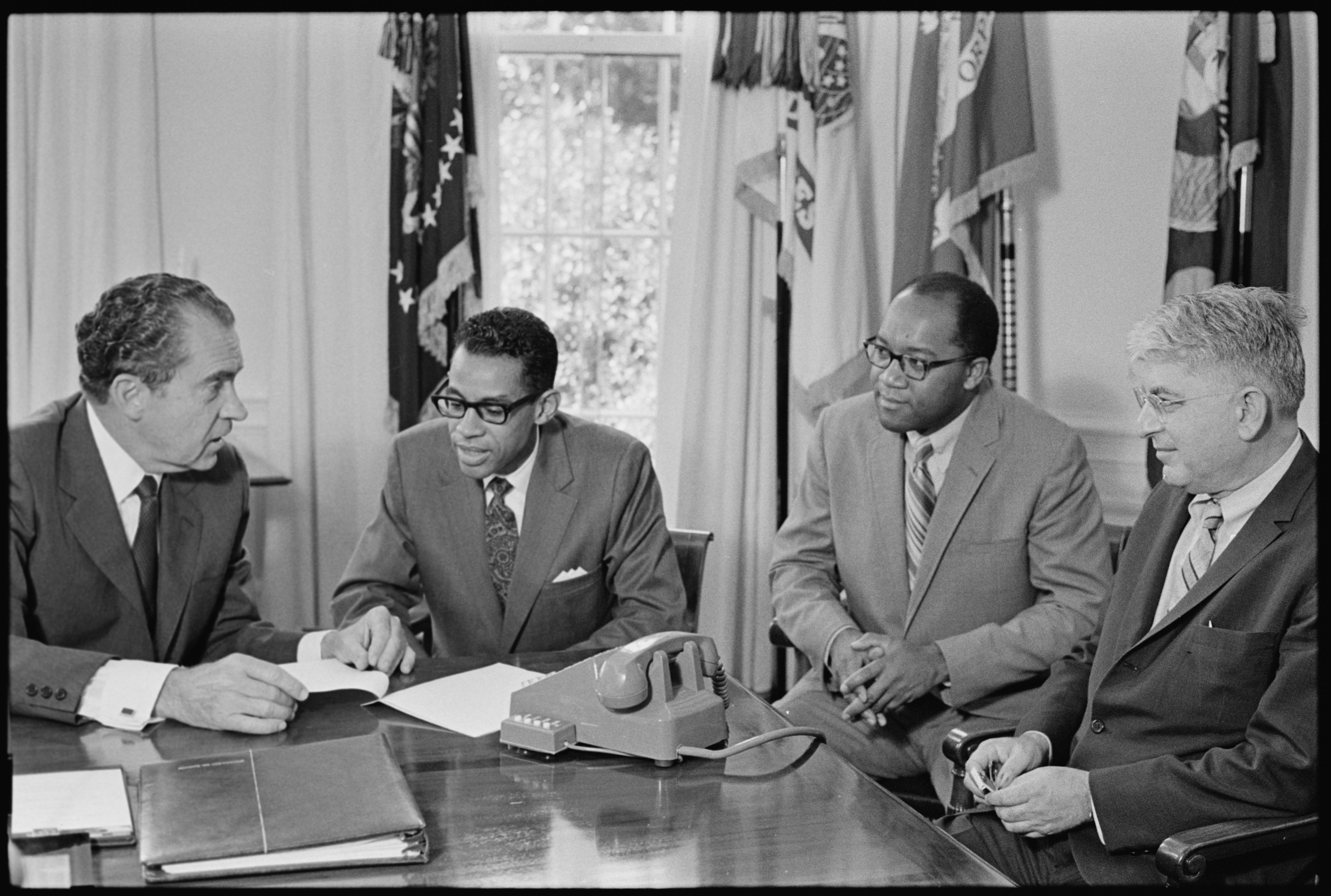 Background
In 1967, the Johnson Administration attempted to institute racial quotas for racially restrictive building trade unions, but ran into an issue when Comptroller Elmer Staats declared the plan violated Title VII of the Civil Rights Act of 1964. The Johnson Administration opted not to challenge, as the president was facing greater political difficulties and chose to focus on fair housing for civil rights policy. The Philadelphia Plan would be up to the next administration.
In 1969, with the support of President Nixon, Secretary of Labor George Shultz and Assistant Secretary of Wage and Labor Standards Arthur Fletcher revived an altered Philadelphia Plan, which required federal contractors to set plans for hiring a certain percent of black workers in Philadelphia through good faith efforts, but failure to meet percentages would not be penalized. This plan attracted immense opposition from construction unions that wanted to retain control over hiring and continue their largely family-based hiring practices (which made it all white) as well as opposition from the white working class. In this case, the Nixon Administration sided with the black working class. The plan also attracted the opposition of Minority Leader Everett Dirksen (R-Ill.), who had been critical in supporting the Civil Rights Act of 1964, agreeing with a color-blind perspective. However, he died of lung cancer on September 7th, and the new Minority Leader, moderate Hugh Scott of Pennsylvania, was supportive. Attorney General John Mitchell declared the plan legal, while Staats continued to assert its illegality and challenged the Attorney General's authority on the subject. Initially the Senate disapproved of the plan, but on December 22, 1969, Rep. George Mahon (D-Texas) proposed to defeat the Philadelphia Plan, which failed on a 156-208 (R 41-124, D 115-84) vote. The Senate followed up this action on the same day to retain the plan on a 39-29 (R 16-13, D 23-16) vote.
A few notable details in the votes:
Reelection did not appear to weigh heavily on the minds of senators who were running for reelection in 1970, nor did it play a significant role in the 1970 midterms.
The three Alabama Republican representatives voted to KEEP the Philadelphia Plan! All three had voted against the Voting Rights Act only four years earlier.
James B. Utt of California, an ultra-conservative Orange County Republican, voted to KEEP the Philadelphia Plan! He had the single most negative record on civil rights from California – Utt was the only Californian to vote against all four of the following measures: the Civil Rights Act of 1957, the Civil Rights Act of 1960, the Civil Rights Act of 1964, and the Voting Rights Act of 1965.
Southern Democrats were the most opposed group, as expected.
Northern Democrats faced something of a dilemma here…choose civil rights or unions. There is a distinct white working-class element to opposition to this plan…
All voting black representatives voted to keep the Philadelphia Plan.
Democrats from California and New York overwhelmingly voted to keep the Philadelphia Plan.
In Connecticut, three of the state's four Democratic representatives opposed…only Emilio Daddario of Hartford voted to keep.
Cook County (Chicago), Illinois Democrats split evenly.
All of the white representatives from Wayne County (Detroit), Michigan, who voted opposed.
One of Maine's two Democratic representatives opposed.
Four of seven voting Massachusetts Democrats opposed.
All of the white representatives from Missouri who cast votes opposed.
Eight of thirteen of Pennsylvania's voting Democratic representatives opposed, of the three Republicans who opposed, two represented Pittsburgh. Only one Democrat outside of Philadelphia voted to keep the Philadelphia Plan.
Both of Rhode Island's Democratic representatives opposed.
Three of West Virginia's five Democratic representatives opposed, as did both the state's senators.
Midwestern Republican voting on this subject seemed to be based more on strength of conservatism than anything else.
Senate Democrats from western states and the Northeast proved more supportive than in the House…they had larger constituencies to contend with. Conservative Republicans in the Senate more clearly aligned against the Philadelphia Plan than in the House.
Ultimately, this precursor to affirmative action was adopted by many other major cities and resulted in moderate increases in hiring of black workers on major construction projects. By the 1990s, George Shultz was against affirmative action, citing how the times had changed, while Arthur Fletcher supported.
I have provided the link to the vote below with MC-Index scores for the 91st Congress.
KEY
Republicans are in italics.
Democrats are in plain font.
Y – "Yea"
N – "Nay"
✓ – Paired for.
X – Paired against.
# – Announced for.
– – Announced against.