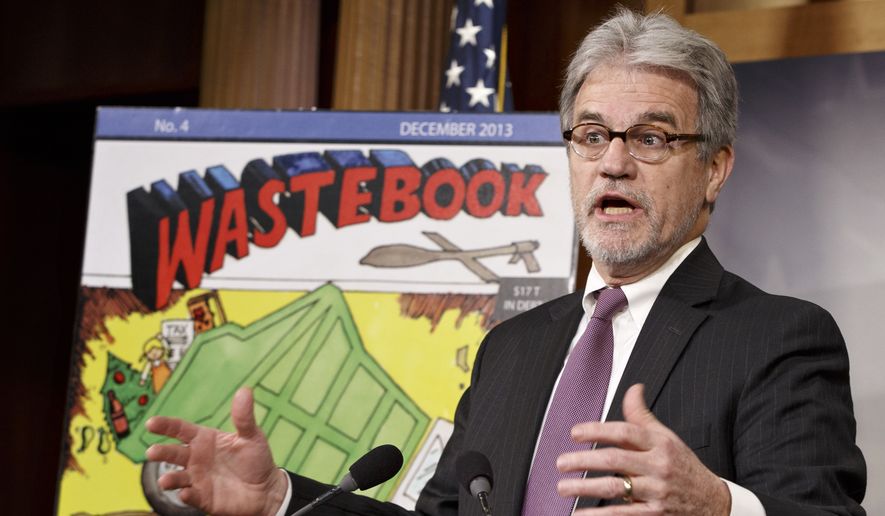 On March 28, 2020, former Senator Tom Coburn passed into history at 72. I was sad to see him leave on account of his final illness in 2015 and from his mortal coil five years later, as I think he was one of the greatest men to have served in the House and Senate.
From a young age, Coburn struggled with health: at the age of 28 he was diagnosed with malignant melanoma so dire he was given a 1 in 5 chance of living. His successful struggle against cancer gave him the courage to act in what he knew was right, and a part of this was changing his career path to become a doctor. In 1994, Coburn was part of the Republican Revolution, being elected to Oklahoma's 2nd district, at the time Democratic territory that hadn't elected a Republican since Alice Robertson became the second woman elected to Congress in 1920. A firm believer in the Contract with America, Coburn sought to hold his colleagues accountable to stay with these proposals, which ultimately, they didn't always do. He was one of those politicians to become known as "Dr. No" (the late Durward G. Hall of Missouri and Ron Paul of Texas also got this honorable title) for being a doctor and for consistently voting against spending bills. Coburn also became known for his activism on AIDS: in 1996, he sponsored a successful amendment to the Ryan White AIDS Reauthorization Act that became known as the "Baby AIDS bill", which required that if voluntary testing of pregnant women for AIDS failed to produce at least a 50% drop in HIV infections among newborns by 2000, that it would be mandated.  He was reelected in 1996 and 1998, with an increasing percent of the vote. In 2000, Coburn, who had promised to serve only three terms, stuck to it and opted not to run for reelection. He subsequently wrote (through ghostwriter John Hart) Breach of Trust: How Washington Turns Outsiders Into Insiders (2003), which was highly critical of Congress, including people on the Republican side of the aisle such as Newt Gingrich and Dennis Hastert.
The Return of Coburn
In 2004, Coburn sought a seat in the Senate, and promised that he would serve no more than two terms and won by 11 points. Columnist George Will wrote of him, "Coburn is the most dangerous creature that can come to the Senate, someone simply uninterested in being popular" (Hart, 2020). He became good friends with one of his fellow freshmen in the chamber, Barack Obama (D-Ill.), stating "I just love him as a man. I think he's a neat man. You don't have to be the same to be friends. Matter of fact, the interesting friendships are the ones that are divergent" (Hart, 2020). Coburn persisted in delivering babies as a doctor even though the Senate Ethics Committee attempted to stop him. He also created the Wastebook, which he published annually to detail excessive and wasteful earmarks pushed in the upper and lower houses. The pork kings among them were Senators Robert Byrd (D-W.V.) and Ted Stevens (R-Alaska) and Representatives Don Young (R-Alaska) and Jack Murtha (D-Penn.).
In 2005, Coburn and others crusaded against the proposed "Bridge to Nowhere", a $223 million bridge that would connect to Gravina Island, a place with a population of 50 instead of continuing to use a ferry service. He proposed an amendment redirecting the money for the bridge to Hurricane Katrina relief, which was defeated 82-15. However, his public opposition had its desired impact: Governor Sarah Palin ultimately canceled the project and allocated the money elsewhere. Coburn's spending savings weren't always public either: he would warn senators when a provision would attract an amendment from him and gave them the opportunity to back off the spending and save face. In 2008, he placed a hold on an AIDS bill for Africa as he wanted a fixed percentage of funds guaranteed for AIDS treatment as he was concerned that funds would be diverted for unrelated programs on poverty, and managed to get more than half of the funds guaranteed.
Coburn in the Obama Era
Coburn stood as a staunch opponent of President Obama's agenda of government expansion and in 2010 proposed $120 billion in cuts. Although this was unsuccessful, the Senate accepted his amendment requiring the Government Accountability Office to study duplication in government that has so far resulted in savings of $262 billion and growing. That year, Coburn was reelected, this time with 70% of the vote. Although firm in conviction, he was willing to work across the aisle on proposals to reduce long-term spending. He backed the Simpson-Bowles framework which called for entitlement reform as well as increases in taxes as he believed it would be best for the nation in the long run. He also became the prime user of the practice of holds in the Senate, in which an objection of a single senator can result in a bill being stopped from coming onto the floor. In 2013, Coburn was listed in Time Magazine's 100 Most Influential People in the World, but he had no interest in attending the celebration…it was simply another day for him. That same year his work in committee investigating Social Security exposed the greatest Social Security disability fraud in history. He also once again with John Hart wrote a book: The Debt Bomb: A Bold Plan to Stop Washington from Bankrupting America (2013).
On gun rights, Coburn succeeded in attaching an amendment to the credit card reform bill in 2009 to permit the carrying of concealed weapons onto national parks if in accordance with the state's gun laws and he also had a consistent pro-life record. In 2013, he had a recurrence of prostate cancer, and opted to retire early at the end of the Congressional session. Coburn delivered an emotional farewell speech in which he emphasized the role of individual senators for the national good:
"Your state isn't mentioned one time in that oath. Your whole goal is to protect the United States of America, its Constitution and its liberties. It's not to provide benefits for your state. That's where we differ — that's where my conflict with my colleagues has come. It's nice to be able to do things for your state, but that isn't our charge. Our charge is to protect the future of our country by upholding the Constitution. The magic number in the Senate is not 60," he added. "And it's not 51 — a majority. The most important number in the Senate is one. One senator. That's how it was set up. That's how our founders designed it. And with that comes tremendous amounts of responsibility, because the Senate has a set of rules — or at least did — that gives each individual member the power to advance change or stop legislation" (O'Keefe, 2014).
The End
Coburn ended his career defying the fears of his critics and, I might add, scored an impressive 98% on the MC-Index. After the 2016 election, he had a somewhat mixed view on President Trump. While he stated that he had a "personality disorder" he also credited Trump with keeping campaign promises and praised the administration's focus against excessive regulations.
Coburn leaves behind a legacy of courage in his promotion of gun rights, countering AIDS, fighting for a sustainable fiscal future, exposing and fighting wasteful spending and government corruption, and improving transparency in how the government uses taxpayer funds. I salute him for his courage and accomplishments, and may we have more in Congress like Tom Coburn.
References
Hart, J. (2020, April 7). Tom Coburn: A Beacon in Dark Times. RealClearPolitics.
Retrieved from
https://www.realclearpolitics.com/articles/2020/04/07/tom_coburn_a_beacon_in_dark_times_142878.html
O'Keefe, E. (2014, December 11). Coburn gives tearful, remorseful farewell to the Senate. The Washington Post.
Retrieved from
https://www.washingtonpost.com/news/post-politics/wp/2014/12/11/coburn-gives-tearful-remorseful-farewell-to-the-senate/