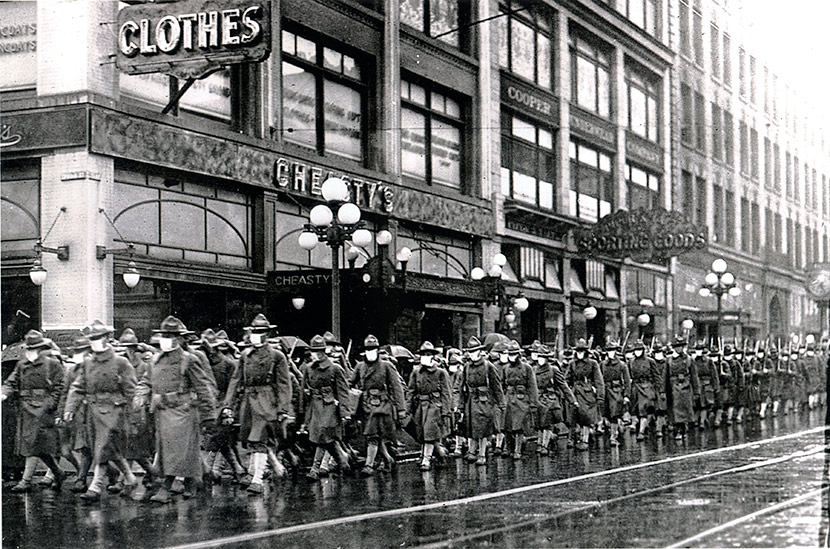 As coronavirus spreads throughout the world, the United States has been taking increasingly strong measures to slow and one can hope, halt its spread. We haven't had a time like this since the 1918 influenza pandemic, and one city that did quite well compared to others in its response was Seattle.
Although Seattle has recently proven one of the worst examples of responsible citizenry on the prevention of disease as its anti-vaccine movement is strong thanks partly to the permissive laws on vaccine exemptions that were on the books until 2019, in 1918 the city became a model in its handling of the deadliest flu pandemic in modern history. This was thanks to the efforts of Mayor Ole Hansen and the Commissioner of Health Dr. J.S. McBride as well as the cooperation of Seattle's citizens. As influenza ravaged the east, Hansen and McBride knew that the city would not be so fortunate as to dodge it. On October 5th, they banned dances and public gatherings and closed theaters, churches, and schools. Stores could only be open between 10 AM and 3 PM to prevent crowding. There were also penalties for failing to wear a mask on public transportation and among the infected, a strict quarantine regime was implemented.
On November 12th, the restrictions were lifted as the pandemic was on the wane. Although the employment of masks with six layers of gauze in public didn't prove helpful for preventing influenza and 1441 people still died in the city, its death rate was much less than that of similar sized cities: Pittsburgh, Pennsylvania, suffered 4500 deaths. Between 500,000 and 675,000 nationwide perished, the result being the average life expectancy in the U.S. falling by twelve years. 50 million worldwide died, a greater toll on life than World War I, at around 40 million, had been. Coronavirus is proving more difficult to contain as people can have it for up to two weeks (but the norm is five days) without suffering symptoms, thus some of the more extreme measures such as lockdowns for weeks being implemented in six Northern California counties, one of which I am a resident.