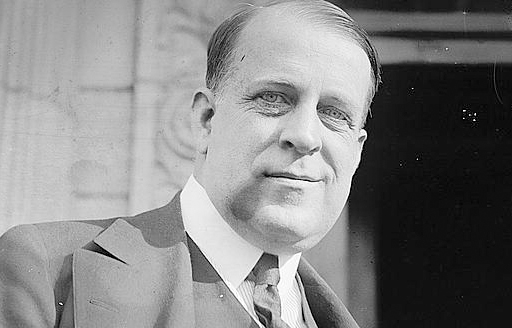 The Democrat most celebrated who is associated with Massachusetts is President John F. Kennedy. He was the first Catholic president but the state he came from was at one time a Republican stronghold with only small Democratic enclaves in Boston. Kennedy had been only the fourth Democrat elected to the Senate in the state's history, and this was possible thanks to some trailblazers, the first major one being David I. Walsh (1872-1947).
David I. Walsh, an Irish Catholic politician in a state dominated by Republican WASPs, made his way up in Massachusetts politics as a progressive reformer, pushing government to take care of matters of social welfare. He served in the Massachusetts State Legislature from 1900-1901, where he opposed imperialism and child labor. Walsh was defeated for reelection on account of his vote to restrict hours of women and children. In 1912, he was elected lieutenant governor, the first Democrat to serve in this position in seventy years. In 1913, he was elected governor and served two years. Walsh proved to be a different sort of Democrat on racial issues than many of his time, calling for film censorship of Birth of a Nation and would support civil rights measures throughout his career. As governor, he increased worker's compensation payments, improved facilities for the mentally ill, supported women's suffrage, and tried to institute initiative and referendum. In 1915, Republican Samuel W. McCall, who had managed to unify the party, defeated Walsh for reelection. However, Walsh would soon return to politics, this time on a national stage.
In 1918, ultra-conservative Senator John W. Weeks was showing signs of vulnerability. Although women's suffrage had been defeated in a 1915 statewide referendum, public opinion in Massachusetts and elsewhere was shifting and anti-suffrage politicians were starting to lose reelection. Weeks was conspicuous in his opposition to the suffrage amendment and Walsh was equally so in his support. He made it a central issue and women's organizations campaigned strongly for Walsh. On election day, he prevailed by over four points, the only Democratic gain in the Senate in a Republican election year that saw victories for pro-suffrage candidates. Walsh was only the second Democrat in history to represent Massachusetts in the Senate and the first to be elected by popular vote.
Walsh proved left-wing in his early Senate years but broke with the Wilson Administration over the Versailles Treaty – Irish Catholic Democrats in Massachusetts harbored a strong dislike for Britain and viewed the treaty as a way of propping up the power of the British Empire. He could be thought of as a strong reservationist on the treaty, voting for Henry Cabot Lodge's version of the treaty with reservations and against a treaty with none. Walsh by and large opposed the policies of the Harding and Coolidge Administrations and opposed income tax reductions. In 1924, he fought for a plank at the Democratic National Convention condemning the Ku Klux Klan for its animus to Catholics and Jews. That year, he lost reelection by less than two points in the Coolidge wave to Speaker of the House Frederick Gillett but the death of Lodge that year opened the door for his return: he managed to best Republican placeholder and Coolidge friend William M. Butler in 1926 by over five points.
Walsh staunchly opposed the U.S. occupation of Nicaragua and criticized the Hoover Administration's handling of the Great Depression. Although he initially backed the New Deal, he was never enthusiastic about it and by 1935 he was having differences with the Roosevelt Administration which grew so great in significance that he reluctantly endorsed Roosevelt mere weeks before the 1936 election. Starting in 1939, Walsh's differences on foreign policy came to predominate his relations with the Roosevelt and he joined the America First Committee. Once again, the cause of the British was unpopular with the Irish Catholics of the state, and as their utmost representative Walsh fought against American involvement abroad. A young John F. Kennedy felt no different on the subject and supported the America First Committee at the time as well. Walsh retained his popularity with the voters, winning reelection in 1940 by a greater margin than FDR. However, this would not last.
In 1942, the New York Post, at the time a staunchly interventionist newspaper, claimed that Walsh had frequented a Nazi-infiltrated male brothel that catered to members of the US Navy. Although his fellow senators defended him and after an investigation the FBI exonerated him on the charge of frequenting the brothel, this smear hit him hard as it was an open secret in Washington as well as with many Massachusetts voters that he was gay. Walsh never admitted this publicly, but President Roosevelt stated his belief that it was true to Vice President Henry Wallace and Majority Leader Alben Barkley. After World War II, he supported the founding of the United Nations but opposed the Anglo-American Loan Agreement, a major loan to Great Britain to help stabilize its economy. Along with the allegations about his frequenting a brothel, his stance on foreign policy didn't age well and in 1946 he was badly defeated for reelection by internationalist Republican Henry Cabot Lodge Jr. (who made no mention of the scandal), losing by almost twenty points. Walsh himself didn't age well either and died only five months after leaving office at 74, but in the same year he lost, John F. Kennedy was elected to Congress. It was Walsh's influence and achievements that had built the foundation not only for fellow Irish Catholic Kennedy's rise, but for that of the Democratic Party in Massachusetts as well.
References
Hill, R. (2012, November 4). David I. Walsh of Massachusetts. The Knoxville Focus.
Retrieved from
David I. Walsh of Massachusetts
Steinmetz, J.D. (2018). Beyond free speech and propaganda: The political development of Hollywood, 1907-1927. Lanham, MD: Lexington Books.
Text of the Klan Debate; Arguments For and Against Censuring the Order By Name. (1924, June 29). The New York Times.
Retrieved from
Wayman, D.G. (1952). David I. Walsh: Citizen-Patriot. Milwaukee: Bruce Publishing Company.