Like Supreme Court justices, some politicians just don't know when to call it quits for their health, or shall we say, "give up the ghost". Below are examples of politicians who sought to be elected despite a high risk of or certainty of death in the near future.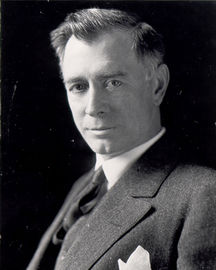 Nevada's Key Pittman, who died only five days after being reelected.
Key Pittman
There is a legend in Nevada politics that Senator Key Pittman died before his reelection in 1940 and that the Democratic leadership had kept his corpse in a bathtub full of ice in Reno's Riverside Hotel until the election was over. This isn't the truth, but the truth is no less scandalous.
A few days before the 1940 campaign, Pittman, who had served as a senator from Nevada since 1917, went on a drinking binge. He was what is known as a "functional alcoholic", being able to carry on his regular duties while binging from time to time. Unfortunately for him, this latest binge triggered a massive heart attack. Although he survived the heart attack itself, it had done so much damage that his physicians reported that death was imminent. The Democratic leadership chose to keep him on the ballot despite knowledge of his pending demise. Pittman died five days after the election.
John Moses
A popular governor of North Dakota whose budget-cutting regime attracted support from both sides of the aisle, Democrat John Moses was in a good political place in 1944. The incumbent senator, Republican Gerald P. Nye, had wagered his reputation on leading the cause of non-interventionism. He also, despite a turn to the right in his record, couldn't get conservatives to back him as they remembered his previous support of the New Deal. Unfortunately for Moses, he was not in such a good place regarding his health. During the campaign he was hospitalized, and was in need of an operation on his heart. Although he survived to be elected, he died exactly two months into his term during open heart surgery.
Daniel A. Reed
Times had changed greatly since New York Republican Daniel A. Reed of Dunkirk first assumed his seat in Congress in 1919. The Great Depression, World War II, the Korean War all happened during his time in office and he had resisted most of the changes in government that came with it, including Social Security. By the 1958 election, he had served in Congress for almost forty years and had served as chair of the Ways and Means Committee. The 83-year old's health was declining, yet he chose to run for reelection. He died less than two months into his final term of a heart attack.
William V. Chappell Jr.
Chappell served in Congress for 20 years from Florida as a conservative Democrat, but in 1988, he decided to run for reelection despite fighting a losing battle against bone cancer. He lost reelection after he was linked to a scandal, and the cancer killed him merely two months after leaving Congress.
Eugene Talmadge
Eugene Talmadge was a polarizing figure in Georgia's political history to say the least. He was a racist and a foe of the New Deal. I won't go into full detail as I intend to write more about him in the future. By 1946, Talmadge had served three terms as the state's governor and decided to give it one more go despite suffering from cirrhosis of the liver. His condition was such that friends privately questioned whether he would survive the campaign. Although he survived the campaign and was elected, the 62-year old Talmadge died less than two months after being elected, which sparked what became known as the "Three Governors Controversy", which again, the details I save for another post.
Chester A. Arthur
President Chester A. Arthur attempted to win (not full-heartedly) the Republican nomination in 1884 despite a diagnosis of Bright's Disease (kidney failure), which he knew would kill him. He died a despondent man in 1886, issuing forth one of the most depressing last words ever uttered: "After all, life is not worth living. I might as well give up the struggle for It now as at any other time and submit to the inevitable".
Franklin D. Roosevelt
FDR is our longest serving president, and he served too long. In 1944, Roosevelt was in failing health, which had been brought on by his heavy smoking and affinity for fried food. His blood pressure was dangerously high, reaching a peak of 210/110, more than necessary to damage blood vessels. Roosevelt, who was regularly short of breath, had been diagnosed with heart failure. Despite his physician telling him he wouldn't survive another term, he pushed forth. Roosevelt lived less than three months into his final term.
Bonus: Mel Carnahan Wins a Senate Seat Despite Death
In 2000, freshman Republican Senator John Ashcroft of Missouri was running for reelection, but had a tough opponent in popular Democratic Governor Mel Carnahan. Unfortunately for Carnahan, he died in an airplane crash weeks before the election and his name remained on the ballot. Despite this fact, he still unseated Ashcroft. His widow, Jean Carnahan, served for two years in his place. Ashcroft's career was not over, however…he would become George W. Bush's controversial Attorney General. Side note: I shook his hand when I was in college when he spoke before a Young America's Foundation conference in Santa Barbara.