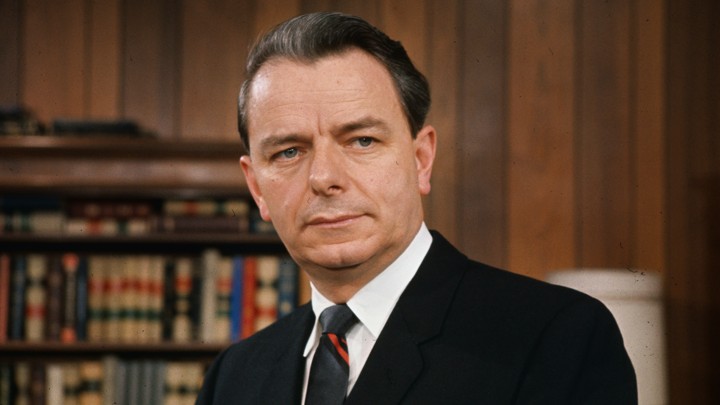 In 1952, the voters of West Virginia's 6th district elected Democrat Robert C. Byrd (1917-2010), a man with a controversial past. In the prior decade he had been a member and recruiter for the KKK, and although this subject came up against him in multiple campaigns, it never halted his political career. Despite his prior membership in the Klan, he cast his votes for the Civil Rights Acts of 1957 and 1960, which although were weak were important steps to stronger legislation. In 1958, he challenged and defeated Senator W. Chapman Revercomb, a Republican who supported civil rights. Byrd voted more or less like you would expect a West Virginia Democrat of the time, largely progressive with a conservative edge or two. He enthusiastically supported the New Frontier under John F. Kennedy, evidenced by his low Americans for Constitutional Action (ACA) score of 7% during the 87th Congress (1961-1962). Byrd, however, drifted away from Northern Democrats in his opposition to the Civil Rights Act of 1964 (which he filibustered for 14 hours, an act he would later apologize for) and the Voting Rights Act of 1965. In both stances, he stood alone in his state's delegation to Congress. In 1967, he voted against confirming Thurgood Marshall to the Supreme Court, the only senator outside of the former Confederate states to do so. He also was a firm supporter of the Vietnam War and tended to oppose social liberalism, as his ACA scores moved towards the political center, scoring between 38 and 63 from 1968 to 1974. All this being said, he remained a supporter of the use of the federal government for anti-poverty legislation and was a strong and early supporter of Medicare.
On civil rights, Byrd began to turn to the Northern Democrat side in the early 1970s. The reasoning  here was twofold: 1. Changes in heart due to the times, and 2. He was interested in leadership. In 1971, he managed to best Ted Kennedy for the post of Majority Whip as he had been willing to perform the duties Kennedy was unwilling to do, significantly raising his profile on Capitol Hill. Despite this, Kennedy and Byrd were personal friends. In 1975, he voted for extending the Voting Rights Act of 1965, even though he had opposed the original act and its first extension in 1970. Upon Majority Leader Mike Mansfield's retirement in 1977, he became the leader of the Senate Democrats.
Byrd had proved a highly knowledgeable and skilled parliamentarian who took his time to master the rules and seldom drank while other senators went to cocktail parties. He was also a master of allocating funds for pork projects, steering billions to West Virginia, as he regarded this as his duty. Byrd also lamented the increased amount of emphasis and power that went to the Executive Branch, stating  "Why so deferential to presidents? Under the Constitution, we have three separate but equal branches of government. How many of us know that? How many of us know that the executive branch is but the equal of the legislative branch – not above it, not below it, but the equal" (NPR)? Although he is an example of how a workhorse can get ahead in politics, he was not without mirth. Byrd was also a talented fiddler, and even released an album of country songs with him performing the vocals as well titled "Mountain Fiddler" (1978).
Byrd led the Senate Democrats until 1987, when he voluntarily chose to step down. In 2001, his past was invoked when on a televised interview he repeatedly used the term "white niggers" to describe young whites into hip-hop and gangsta culture. During the Bush Administration he staunchly opposed the Iraq War, and condemned the Administration as reckless and arrogant, going as far as to write a book, Losing America: Confronting a Reckless and Arrogant Presidency. Yet, among Democrats, he was one of the senators most likely to support Republican nominees for the Supreme Court, voting for both John Roberts and Samuel Alito. In 2008, he backed Barack Obama for the presidency and the following year he voted for the Affordable Care Act, consistent with his longtime support for expanded federal government involvement in healthcare. Byrd died while serving in the institution he loved so much and to this day he stands as the longest serving senator in American history.
References
Welna, D. (2010, June 28). West Virginia Sen. Robert Byrd Dies at 92. National Public Radio.
Retrieved from https://www.npr.org/templates/story/story.php?storyId=128158671