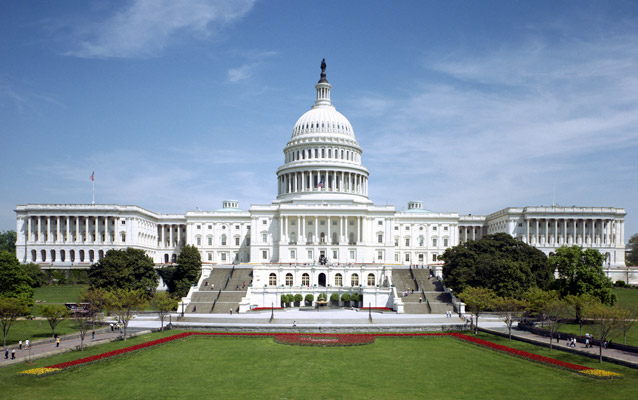 Yesterday I caught an episode of The Savage Nation while driving between my day jobs. Michael Savage was condemning protestors and threats to the safety of members of Congress and recounted an incident in the 1950s in which he stated that members of Congress were shot and killed by Puerto Rican nationalists. This is only partially true; here is the full story.
Before Puerto Ricans were vying for statehood, there was still residual anti-colonial sentiment in the land. Puerto Rico was one of the U.S.'s acquisitions as a result of the outcome of the Spanish-American War along with Cuba and the Philippines. Both Cuba and the Philippines had been let go, but Puerto Rico remained. Thus, some Puerto Rican nationalists resorted to terrorism to gain sovereignty. Two Puerto Rican nationalists, for instance, were responsible for an assassination attempt on President Truman in 1950. They would demonstrate their dissatisfaction most dramatically on March 1, 1954.
That day Congress was in session and they were debating an immigration bill when four Puerto Rican nationalists unloaded thirty rounds from semi-automatic pistols into the chamber. Members of Congress frantically ducked for cover, while the Speaker declared "the House is recessed" as he went to hide behind a marble pillar. Contrary to what Dr. Savage claimed, no members of Congress died but five were shot. The five were Kenneth Roberts (D-Ala.), George Fallon (D-Md.), Ben Jensen (R-Iowa), Clifford Davis (D-Tenn.), and Alvin Bentley (R-Mich.). Of the five, only Bentley was gravely injured, having taken a bullet to the chest. One former marine Congressman, James Van Zandt (R-Penn.), helped tackle and disarm one of the shooters. The four perpetrators were Lolita Lebron, Rafael Cancel Miranda, Andres Figueroa Cordero, and Irvin Flores Rodriguez. Of the four shooters, most of the shots came from Cancel Miranda, and Lebron claimed to have fired her shots into the ceiling. Nonetheless, the four were sentenced effectively to life imprisonment for the wounding of the five representatives. The House had considered putting up bulletproof glass, but the notion that the House was the "people's House" prevailed and the proposal was rejected. In 1978 and 1979, all four shooters were pardoned by President Jimmy Carter and returned to Puerto Rico. This action coincided with the release of Americans from Cuba on espionage charges.
References
Stanglin, D. (2014, October 22). Six decades ago, shots rained down on Congress. USA Today.
Retrieved from https://www.usatoday.com/story/news/nation/2014/10/22/congress-puerto-rico-nationalists-shooting/17721187/
Timeline of 1954 Shooting Events. U.S. House of Representatives.
Retrieved from http://history.house.gov/Exhibitions-and-Publications/1954-Shooting/Essays/Timeline/